Ashley Moore is a nurse, military wife, and mother of four. When her kids were little, she poured her time and energy into them, which left very little time for herself. A chronic stress eater who assumed cardio was the only option to lose weight, Ashley avoided getting serious about health for a long time.
Having failed to lose the weight of her last two pregnancies, Ashley used her husband's 20-month deployment as motivation to finally make a change. Discovering a love of lifting and a much healthier approach to food, she surprised her husband on his return by showing up to greet him smaller and more fit than the day they were married.
---
---
Here is Ashley's story. If you want to share your success story with us to be considered for publication, send an email to​​​​ transformations@bodybuilding.com. – H.E.
In elementary school, I played a lot of different sports—baseball, soccer, whatever. I was a normal active kid. But by middle school and high school, for some reason, I really didn't participate in sports anymore. I did some occasional running, and I took a couple aerobics classes, but nothing overly athletic or "sporty."
Fast forward a bit, and I got married just a few years after high school and we started a family. Right now, my kids are 13, 11, 8, and 6, but when they were little, they were all little at the same time. I gained about 50 pounds with every pregnancy, but I lost it pretty well after the first two.
Like a lot of people, I thought cardio was what I had to do for exercise. So, I kind of got into running, especially after my first and second babies. That kept me sane for a few years in there.
But at the same time, those years were really hard. I basically gave up everything that I wanted during those years for my kids, while they were tiny. It definitely impacted my life in every way, and I definitely did not emphasize fitness in my life. It was really hard to meet all the demands of being a mother, let alone anything else.
I Had the Wrong Idea About Lifting
After my third pregnancy, I never lost the weight. Then, it segued right into the fourth one. I got to a point where I was actually up to about 215 pounds.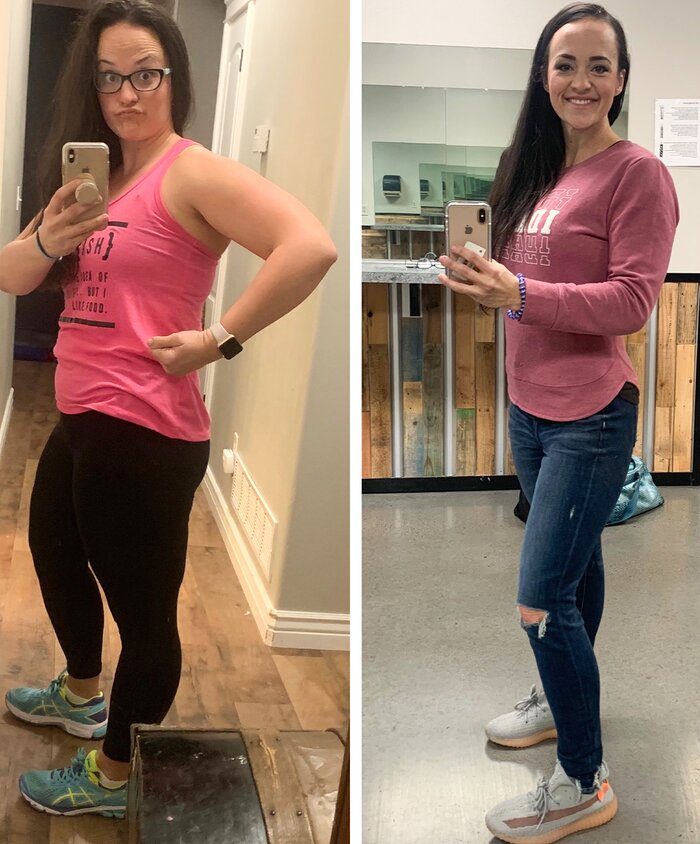 Sure, I was still running—kind of an on again, off again thing—but I knew it wasn't doing it for me. Honestly, I didn't even really like it that much! I was pretty unhappy with my body, unhappy with the way I felt. I had a lot of depression, anxiety, and stress. But, obviously, my kids were still relying on me, and it was hard.
---
---
I'm a nurse, and I was working up at labor and delivery. Some of the gals I worked with went to the gym at our hospital, and a couple of them were working out with this trainer. They encouraged me to start lifting weights. I was kind of like, "Really? Lifting weights? That's so boyish. I don't want to get too bulky."
I didn't realize that that's not how that happens. It turns out, lifting can actually make your body smaller, which is so weird. I didn't expect that! Plus, I learned that I actually loved putting on a little bit of muscle. I love the way muscle looks and feels, and I love the way that my body feels.
It's been really fun to embrace those changes and transform myself.
I Had to Hold Myself Accountable
For the last two and a half years I've consistently lifted weights, but I wasn't consistently losing weight. This made me realize I had to started being accountable for everything that I put in my body—not just my workouts.
Once I started tracking my macros, it was amazing how quickly the weight started to fall off. Stress eating has always been a part of my life. You don't even think about it and you just don't realize what you're doing. I had to put that conscious effort in if I wanted to change. I think that's the biggest thing—just recognizing what you're actually eating and what you're doing to yourself.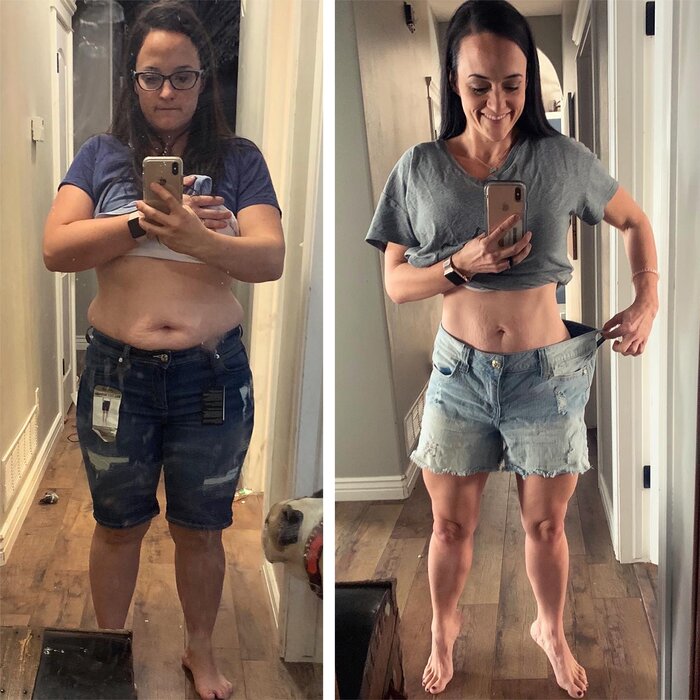 We live in a world where everything is celebrated by food: birthday cakes, picnics, pies, holidays. There's constantly a reason to eat! I tend to overeat and emotionally eat anyway, so it was something that I struggled with. I would do really good for a week or two, then I'd decide it wasn't working and start grabbing handfuls of treats on my way to bed or whenever.
My trainer had me do six meals a day with a little protein, a little fat, a little carb in every meal. I started to feel satiated most of the time, and now I don't have this burning drive to snack anymore.
---
---
It's like the longer you go without eating sugar and junk food, the easier it gets to not eat it at all. My body doesn't crave it anymore.
I Turned Deployment into an Opportunity
Being a military spouse is hard. My husband is in the National Guard, so he's gone for one weekend each month, a couple weeks in the summer, and sometimes for trainings here and there.
But deployments are different. When my husband deployed last summer, he was in the United Arab Emirates, which is 7,000 miles away. We only had little windows of time in the morning and at night to be able to communicate. There were days when I was like, "I can't anymore. I can't do this!" You just feel the whole weight of the entire world.
When my husband first deployed, I made a decision to lose the rest of the extra weight before he came back. I wanted to knock his socks off! I knew I had about 20 weeks until he was going to be home, so I was insanely motivated.
He Didn't Even Recognize Me
I was able to drop about 40 pounds while he was gone, which was really cool. I'm down to 142 pounds and lost 17 percent body fat, which is amazing. I probably weigh a little bit less now than I did when I first got married!
When he got off the airplane, I was holding a sign and, because of Covid-19, we were all wearing masks. My kids ran up to him—it was super cute—and I was just, like, there. He actually looked past me a couple of times, because he did not even recognize me.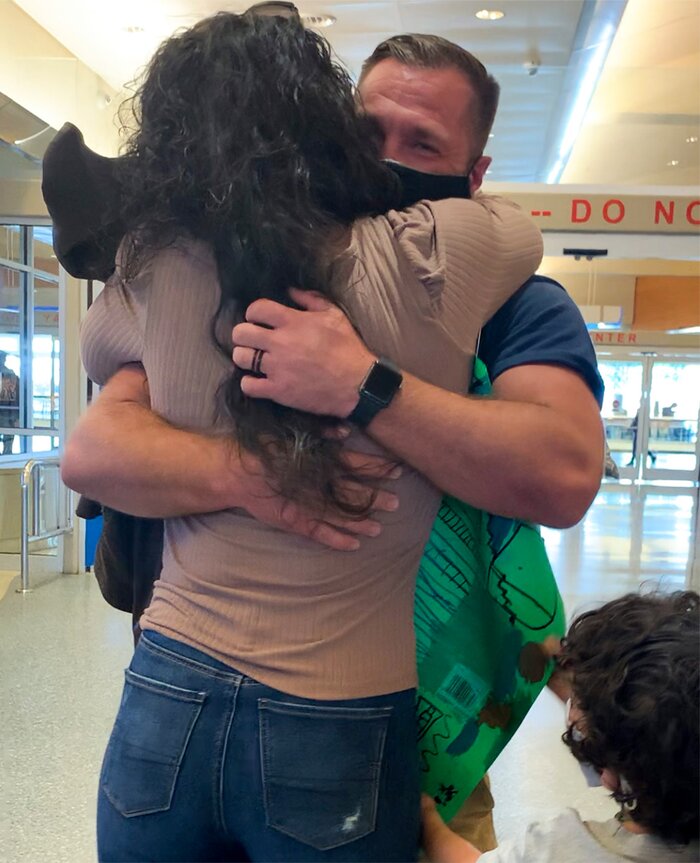 Finally, I gave the phone to one of my daughters so she could record him seeing me in person for the first time. I gave him a big, huge hug and he just grabbed ahold of me. The first thing he said was, "You're so tiny!" We just held each other for a while, then he stepped back and he just shook his head in happy disbelief.
---
---
I had worked really hard for the entire time that he was gone, so it was kind of fun to have that moment. It was a very special for me.
I Feel Like an Entirely Different Person
I think one of the biggest things about weight loss is just how much it impacts your whole life. I had spent the last couple of years exercising pretty regularly, but I didn't know how much losing the weight would impact how good I feel about myself.
Being a mom now is so different than when I was my heaviest. Even just walking into my kids' school, my confidence level has completely shifted. I feel like an entirely different person in every way. My entire life has changed, and my mental space is so different than it used to be.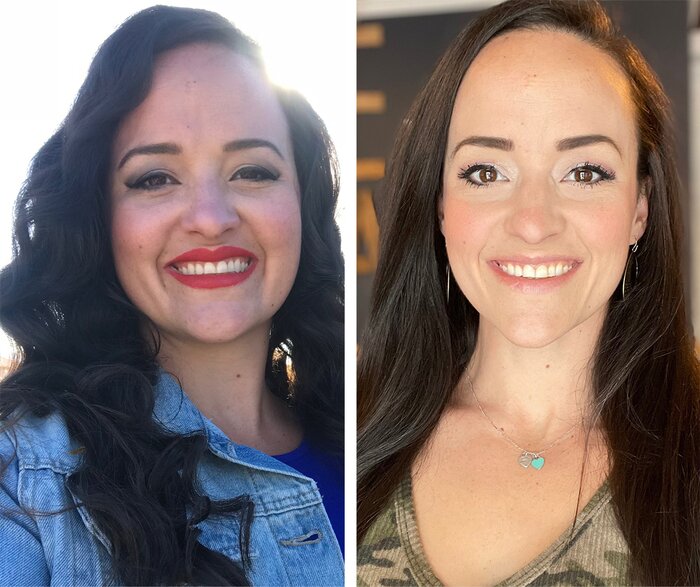 You can take pictures and compare how your body looks before and after, but you can't take pictures of that mental side. I wish I could, because if anybody who is struggling with weight could see the way that it feels on the inside, they would do it, too.
It just feels so good. I feel so much better when I'm taking good care of myself.
Ashley's Top 5 Transformation Tips
1. Decide That You're Worth It
I had to decide that I was worthy of the time, money, and effort necessary to make a change. I had to really shift my thinking, and it's been an interesting process. There have been many times when I struggled with loving my body or loving myself. I love who I am now in every way: mentally, spiritually, physically. I have absolutely changed, and I love it and embrace it. Allowing your mind to shift and recognize that you are worthy is a beautiful thing.
---
---
2. Find Focus in Fitness
While my husband was gone, I was taking care of my four kids, the yard, the house, and I had so many things going on. I needed something else to focus on during that time.
By making health and fitness a priority, I could focus on just what I was eating and what I needed to do to hit my goal. I could go work out and meal prep healthy meals. Focusing on my health helped me deal with all the stress and other things that sometimes felt piled on me.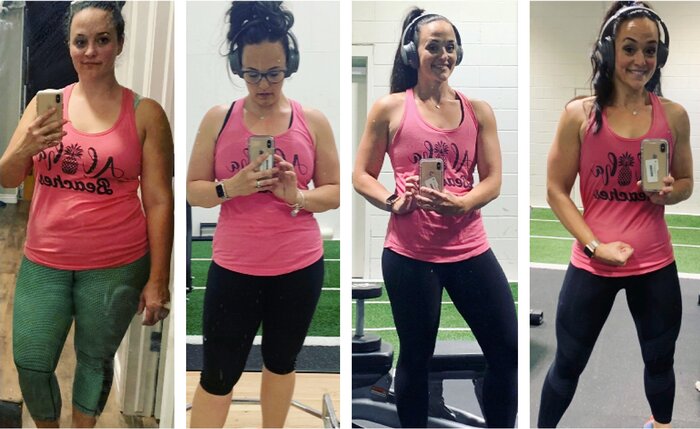 3. Don't Be Afraid of Help
If you need help starting out, get a trainer! Find somebody to help who knows this stuff inside and out, what works and what doesn't. There's so much conflicting information out there. No carbs? Yes carbs? I never could figure it out. My trainer helped me make the right changes and dial in my macros to what my body needed. It worked out beautifully for me.
4. Do It for You, to Be There for Them
We give as mothers and as spouses. We give and we give and we give. There comes a point when you have to take care of yourself. It's harder to be useful and helpful to other people if you don't fill your own cup first.
---
---
5. Set New Goals
I think having goals is 100 percent necessary. Hitting little personal records here and there can help keep you going, but having something big to drive me out of my comfort zone has been essential for me.
For example, my trainer and I are working toward getting me ready to do a figure competition. Stepping onstage is something that intimidates me a lot, but I think that is a good thing. I think it's definitely going to grow me in a lot of ways, and even the prep leading up to it is going to help me grow.
You can follow Ashley's fitness journey on Instagram at @fitmom.of.4
Looking for the perfect program to make a big change in your life, no matter where you're at in your fitness journey? Try Your Transformation Starts Here, Vol. 1, exclusively in BodyFit.