Are you a lone wolf in your journey to your fittest, fastest, strongest self? Many fitness enthusiasts, as well as weightlifters, runners, cyclists, and swimmers, train in solitude and work toward their goals without posting their WOD on Instagram or talking to others about it. Unfortunately, their self-imposed isolation may be hindering their progress.
"Fitness communities—whether it be boot camps, running clubs, or even just a workout partner—all positively impact participation and effort," says Rob Bell, Ph.D., a sport psychology coach, Ironman, and ultra-marathoner who has served as a mental toughness coach for multiple winners on the PGA Tour, Olympic medalists, and at the University of Notre Dame.
---
---
In fact, one study that examined the benefits of social support on weight loss found that people who worked alone on a weight-loss program had a 76 percent completion rate—not bad, but only 24 percent of those participants maintained their weight loss. On the other hand, the participants who worked out with friends had a 95 percent completion rate, with 66 percent of them maintaining their weight loss for at least six months.[1]
Fitness communities can take many forms, including in-person and virtual options: group training sessions led by a coach, fitness classes, online communities with like-minded members (such as Bodybuilding.com), gyms catering to specific workout styles (CrossFit or Pilates), subscriptions tied to specific equipment, and programs with nutrition goals. Each one offers a different experience, and it's crucial to find the right fit for your personality.
5 Benefits of Joining a Fitness Community
Still not sold on the idea of incorporating others into your fitness routine? Here's more food for thought on the many perks:
1. Accountability
Remember when you were a kid and the worst thing your dad could say to you when you made a mistake was that he was "disappointed" in you? Well, you'll be equally reluctant to disappoint your fitness community by skipping a workout.
"Knowing that others will want us there and that our absence affects the entire group forces us to be there," explains Bell. "It's a huge external motivator to not let others down."
2. Self-confidence
If you aren't familiar with the power of "modeling," it's the concept that seeing others do things gives us belief in ourselves—essentially, if they can do it, so can I.
"Being in the same group as others doing tough stuff enhances our own self-image and belief in ourselves because we are all in it together," says Bell. "The self-comparison, if handled correctly, enhances our own confidence."
---
---
3. Support
A strong fitness community can be a great support system when you need a pat on the back or a pep talk.
"Things will not always go as planned, so it's helpful to have people to turn to in times of need," says personal trainer Jessica Kasten, M.S., NSCA-CSCS, CPT, FRCms. "People in your community can lift you up if you're feeling down and help you identify and solve potential problem areas you may not have seen on your own."
4. Intensity
People tend to train harder when working in a group setting or with another person due to what's called the Köhler motivation gain effect.[2]
"Basically, no one in class wants to appear to be the weak one, so they will push harder than they would on their own," says Kasten. It's an ideal way to gain a competitive edge and push yourself harder.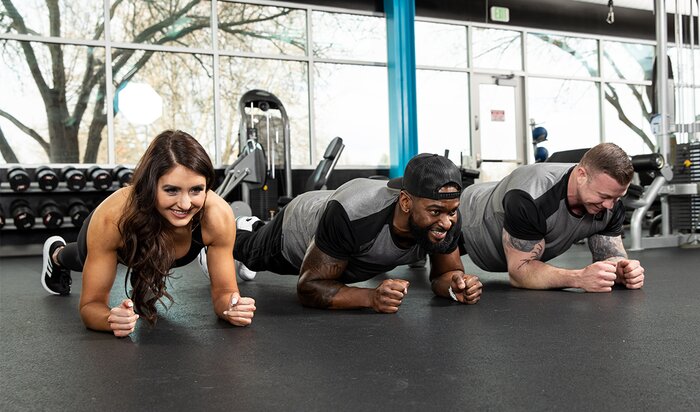 5. Knowledge
Fitness communities can be great resources for learning more about whatever fitness niche you are passionate about.
"When people engage in a community, they can share ideas and learning materials, see what is working for other people with whom they share a common goal, ask each other questions, and more," says Kasten. "It can be a great way to get new workout ideas, share recipes, or learn about a new way of doing things."
Also, It's All in Your Head
Another reason that fitness communities are valuable and motivating is that they make your brain happy by triggering the release of neurotransmitters.[3]
---
---
"Exercise induces endorphins, which can cause people to experience a sense of euphoria and also reduce the perception of physical pain," says Kasten, referring to the phenomenon often called a "runner's high." "Endorphins can also generate a sense of closeness and bonding. People who work out together and experience an endorphin rush together can develop a sense of trust with one another and feel closer after the workout. This experience can help bring people together and create new friendships."
Aside from endorphins, Bell says there are two other hormones at play: oxytocin, the chemical that drives us to be around people we like and trust, and serotonin, which supports a sense of pride.
How to Find a Community with the Right Vibe
While there's no shortage of fitness communities out there, it's not a one-size-fits-all proposition.
"Like any relationship, it can take some trial and error," says Kasten. "You may have to kiss a few frogs before you find 'the one,' but if you are seeking a new fitness community, you will know when you have found your home."
Look for a group that makes you feel good about yourself, lifts you up instead of bringing you down, is happy to help, encourages healthy competition, and ultimately makes you feel like you are part of the team.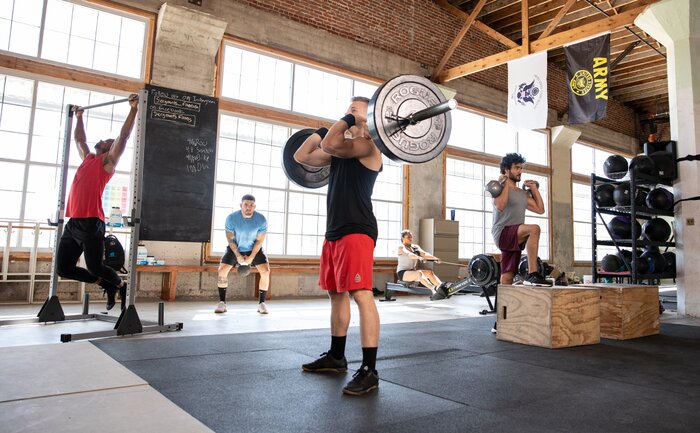 Not sure where to start? BodySpace is a free social fitness platform and—at 2.7 million members—is the largest online fitness community. It's a digital place to share your struggles, showcase your successes and progress pics, and interact with a network of millions of people all focused on becoming their best selves. Plus, it's full of tools to help with your transformation based on your goals, and pairs well with the BodyFit app, which contains 2,500 expert-created workouts. The Forums are also free, and categorized by topic (such as supplements, female bodybuilding, contest prep, and workout equipment). And Bodybuilding.com's social media communities are incredibly active—join the conversations on Twitter, Instagram, Facebook, and YouTube.
References
Wing, R. R., and Jeffrey, R. W. (1999). Benefits of recruiting participants with friends and increasing social support for weight loss and maintenance. Journal of Consulting and Clinical Psychology, 67(1), 132-8.
Kerr, N. L, & Hertel, G. (2011). The Kohler group motivation gain: how to motivate the "weak links" in a group. Social and Personality Psychology Compass, 5(11), 43-56.
Plante, T. G., et al (2001). Does exercising with another enhance the stress-reducing benefits of exercise? International Journal of Stress Management, 8(3), 201-13.