Image Source: mirror.co
Home workouts feel a lot less lonely when you have a life-size trainer guiding you from a smart mirror on your wall! The Echelon Reflect and the Mirror are both high-tech, HD mirrors that allow you to stream workouts from the comfort of your home, while getting that collaborative fitness class experience at the same time. But because they both come with a hefty price tag (either way, you'll have to shell out more than $1,000), it's important to know what you want in a smart mirror before you commit. Keep reading for a deep dive on the differences between these two amazing products.
What Is the Price of the Echelon Reflect vs. the Mirror?
The Echelon Reflect comes in two different sizes: the 40-inch for $1,040 and the 50-inch touchscreen for $1,640. A membership is required to access the brand's live and on-demand workout classes. Plans start at $40 per month for up to five users, with discounts when you register for an annual or two-year membership. The $200 shipping fee is also waived with these long-term plans.
The 40-inch Mirror is $1,495, plus an additional $250 for delivery and installation. The required membership is $39 per month for up to six members of a household. Both companies offer financing with approved credit and 30-day return policies if you don't absolutely love it. Both products also require you to download a free app, which you'll use to control the device. (That is, unless you get the touchscreen Echelon Reflect.)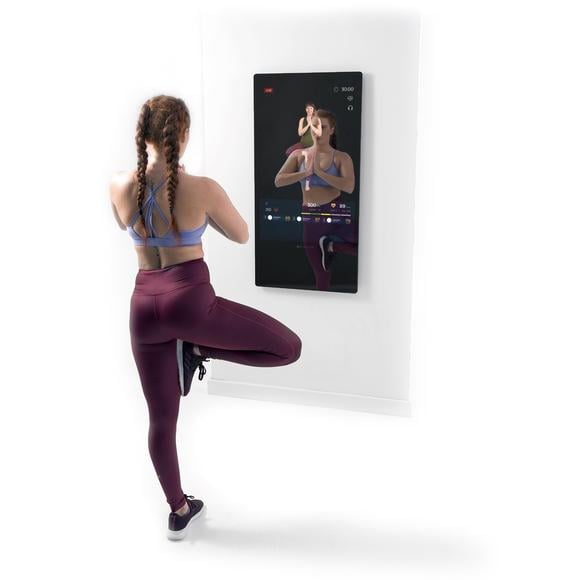 Image Source: echelonfit.com
What Are the Echelon Reflect and Mirror Classes Like?
The Echelon Reflect membership gives you access to unlimited live and on-demand classes across a variety of disciplines, including strength training, yoga, Pilates, Tae Bo, BoomBoxing, and more. You can also see your heart rate in real time with the Heart-Track system, which can connect to your smart watch.
The Mirror offers workouts across more than 50 different genres. Classes range from five to 60 minutes and are tailored to all fitness levels. You can choose from new live weekly classes or a library of thousands of on-demand workouts, or for an additional fee, you can meet with a trainer one-on-one. The Mirror is also compatible with your Bluetooth heart rate monitor, Apple Watch, or Android Wear OS Watch.
Another cool feature, especially in the age of COVID-19, is that both of these products allow you to connect with friends and other members of the community to work out together, virtually. You can also see real-time metrics (like calories burned) and get encouragement from your instructors, further personalizing the experience.
Do These Smart Mirrors Require Any Other Equipment?
While the Mirror offers a ton of equipment-free workouts, there are some pieces of equipment you may want to have on hand, including dumbbells, resistance bands, yoga blocks, and more. The brand sells a heart rate monitor and fitness bands to help get you started.
Echelon Reflect similarly offers a range of accessories, including heart rate monitors, dumbbells, and exercise mats. If you have more space in your home gym, Echelon also makes bikes, rowers, and a smart treadmill, which can all be used with the same membership program.
Both of these smart mirrors allow you to connect with others, give you access to unique workouts, and encourage you to watch your form. As a bonus, they both look chic on your wall when not in use! Whether you get the Echelon Reflect or the Mirror will likely come down to your specific wants and needs. Consider everything, from the price to the classes offered, to how much space you want the mirror to take up on your wall to whether you want to drill it into the wall at all. (Notably, the Mirror is the only one that offers a stand mount.) Whatever you decide, you won't regret it!